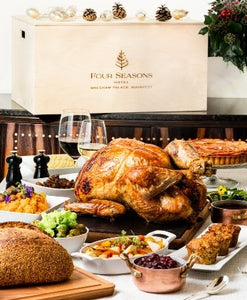 Turkey To go
Regular price

175.000 HUF

Sale price

175.000 HUF

Regular price

Sale

pre-order available from 20 November
Tax included.
Adding product to your cart
Description
The Traditional Turkey Dinner contains the following for 6-7 people
4-5 kg Whole Lavender Honey Roasted Turkey, Gravy, Cranberry and Port Wine Jam, Pistachio Cumberland Sausage, Truffle Mashed Potatoes, Cinnamon Flavored Crushed Sweet Potato with Maple and Chestnut, Sautéed Root Vegetables, Forest Mushroom Ragout, Brussels Sprout Confit, Green Beans, Gingerbread Pudding, Pecan Pear Brownie Pie
All served in our signature Four Seasons Wooden Box for your convenience. 
Our Turkey To Go package requires prepayment. Once placing the order the payment link will be sent to your e-mail address shortly.
Ünnepi pulyka elvitelre 6-7 fő részére
4-5 kg levendulás mézzel sült tanyasi pulyka, vörösboros vörösáfonya lekvár, pecsenyelé, pisztáciás cumberland kolbász, burgonyapüré szarvasgombával, fahéjas tört édesburgonya gesztenyével és juharsziruppal, gyökérzöldségek, erdei gombaragu, konfitált kelbimbó és zöldbab, mézeskalácsos kenyérpuding, pekándiós körte pite
Mindez a már hagyományosnak mondható, egyedi, Four Seasons dobozban összekészítve
. 
Turkey To Go rendeléseinkhez előrefizetést kérünk.  A megrendelés leadása után a fizetési linket hamarosan küldjük az Ön e-mail címére.
Use left/right arrows to navigate the slideshow or swipe left/right if using a mobile device